Japan's predominant mobile operator, NTT Docomo, has installed rolls of smartphone "toilet paper" in Tokyo's Narita airport after a US report showed smartphone screens harbour more bacteria than a toilet seat, the Mainichi reported.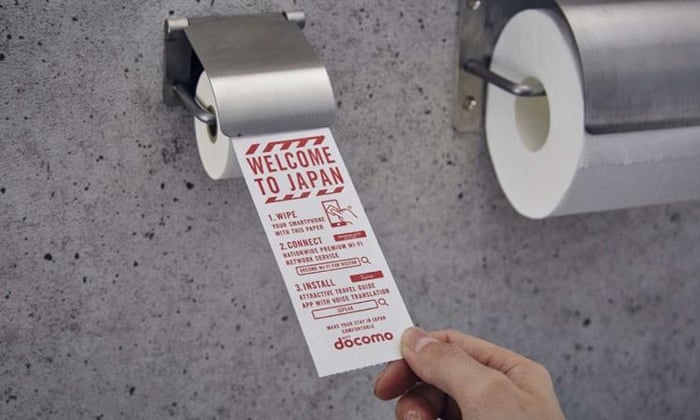 The smartphone sheets bear the message "Welcome to Japan" alongside information about Docomo's Wi-Fi services in Japan. This comes after the Japanese Tourism Agency recently found that foreign visitors have trouble finding these internet services when travelling in Japan.
The smartphone rolls, which look like smaller versions of regular toilet paper, were installed on 16 December 2016 in 86 cubicles in Japan's predominant international airport, Narita Tokyo and are due to remain until 15 March 2017, the Mainichi said. This airport handles 50 per cent of the country's international passengers.
NTT Docomo is a play on words: an abbreviation of "do communications over the mobile network", and reminiscent of "dokomo", which means "everywhere" in Japanese.
With the advent of Docomo's mobile toilet paper, it really is everywhere.
Source: The Mainichi
————————————————————————————————
The Japanese Connection offers a wide range of professional Japanese translation or interpreting services worldwide, with specialists in many areas including law, business and engineering.  Indeed, our level of specialism coupled with excellent customer service accounts for our ever-expanding list of clients from around the world. To find out how our services can assist you, please visit our website or contact us directly by email. You can also visit our blog guide to doing business in Japan.